The "Pat-Pat" Method: K-Beauty's Secret to Success?
Thank you Skin Inc. for featuring us on "K-beauty patting technology"!! This technique is meant to help skin with better absorption on skin care products….visit link https://tinyurl.com/ybpuxf9l  or continue to read below for more detail.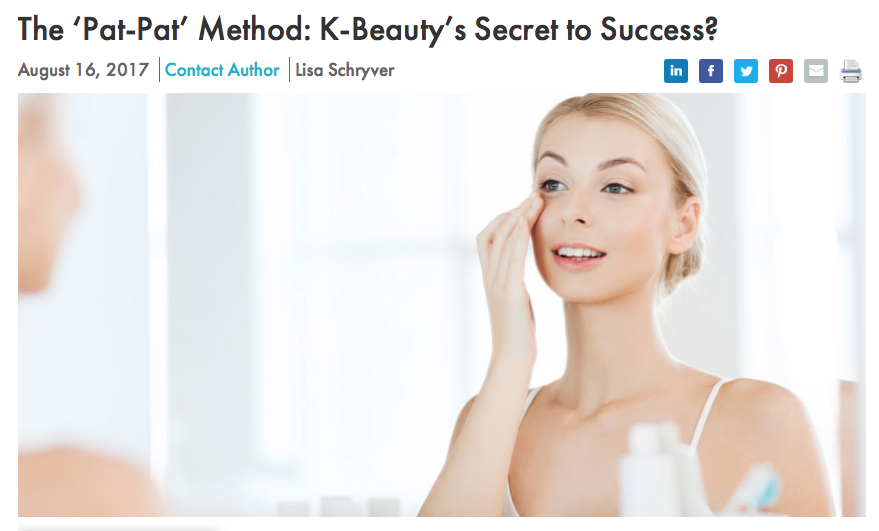 Below article is contributed from Skin Inc Magazine:
There's no question K-beauty is taking over the beauty world. Ranging from sheet masks to snail serums, the uniquely innovative concepts behind K-beauty products are what make it such a phenomenon.
While K-beauty products vary widely, there is one common thread among Korean skin care: the "pat-pat" method.
Face Patting for Better Absorption
Call it face patting, slapping, tapping, whatever you like, the method of applying products to the face is more than just a quirk. The act of patting certain products into the skin actually helps the skin absorb more of the product than by using a rubbing motion alone.

Korean skin care is known for its multi-layer approach to skin care products. The typical K-beauty routine includes 10 steps.

"With all these steps and layers of skin care products, Korean estheticians concentrate more on the tapotement massage technique—tapping or rather patting each layer of product deeper into the skin for better absorption," said Shauna Lee, vice president and director of operations for Hair Couture's K-beauty sector, Ahroom. "This method also provides good blood flow circulation resulting in glowing skin."

Lee notes that because Korean women spend hundreds of dollars on pricey products, patting products into the skin is considered the norm and is part of their daily skin care ritual.

"Patting skin care products as well as daily lotions is a good habit," said Lee. "You want those great components to work deep into your skin, otherwise, it will just sit on the outer layer."

The Method

Lee believes so strongly in the face patting method that her company distributes a device designed to automatically pat products into the skin. LG's TuneAge Smart Patter Ceramic Lifter allows for a 90% absorption rate compared to 20% with hands alone.

"Imagine using your fingers and pat skin care

USA Cosmetics. "The technique is only meant to be used on thicker formats, like creams and moisturizers, for better absorption and is not for serums or watery lotions or emulsions."

Kuo explains that water-based products should be applied using a different technique, which consists of warming the product with the finger tips prior to application.

"Everything is about how to maximize the effectiveness of the products to the skin, therefore, these techniques were invented and have been used popularly among Korean women for a long time," said Kuo.
Face Patting in Your Spa
While face patting has been used for centuries in other countries, it's been slow to catch on in the United States. However, that's something Lee sees changing.
"This method is considered a category in the professional skin care massage techniques, but just rarely used," she said. "Koreans are firm believers that this patting method is tried-and- true."
Some estheticians may be afraid to use the patting technique so as not to scare or accidentally hurt the client, but Lee explains that estheticians can get beyond the fear by using an automated face patter.
"Estheti­cians, professional skin care technicians and even consumers can use this handheld device with confidence," she said. "The ceramic patter provides 9,000 pats in three minutes, penetrating the products deeper…by simply using 'non-offending' rubbing motions."