Huge Cosrx Selection Is Now Available at Riley Rose!
By now you've heard about Riley Rose! If not, here's a quick rundown…it's the new beauty wonderland conceived by Linda and Esther Chang, the daughter's of Forever 21's founders. The first Riley Rose location was launched in the LA area at Glendale Galleria Shopping Center. The launch was a huge success and received positive buzz from consumers and beauty editors alike.   In an article published by Racked, Senior Beauty Reporter, Cheryl Wischover states "the collection of beauty brands is quirky, with a lot of indies in the mix. Prices range from $3 for a sheet mask up to just over $50 for some skincare, though most seemed to be in the $10-to-$30 range. Quite a large section is dedicated to K-beauty: You can find Missha, Goodal, Cosrx, Thank You Farmer, Tony Moly, and Huxley, to name just a few, as well as multiple sheet mask brands scattered all over the store."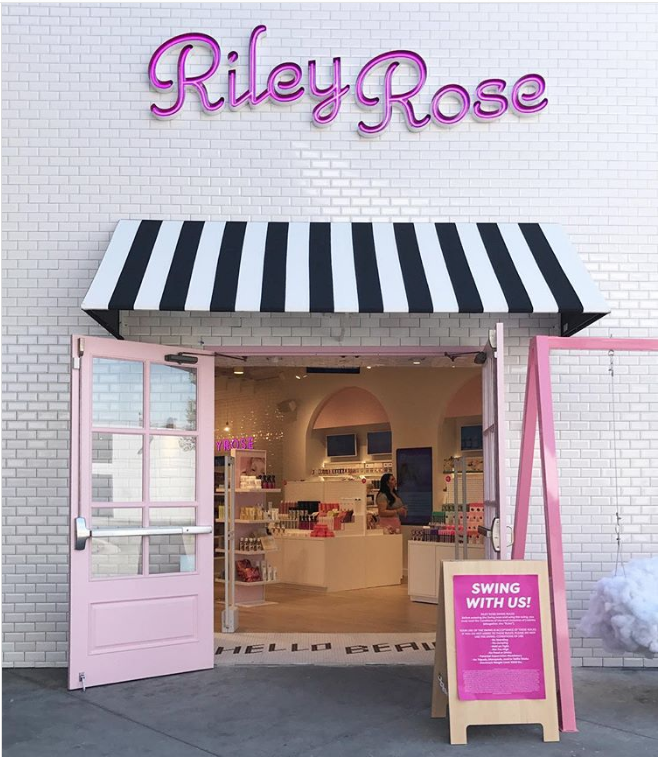 (Exterior entrance to Riley Rose, Glendale, California. Image courtesy of RR Instagram)
Yes, you read correctly Cosrx is now available at Riley Rose in Glendale and will be available TOMORROW at the opening of their second location in San Antonio, Texas! Doors will open at 10AM sharp at The Shops At La Cantera.  The South Korean skincare label is devoted to helping individuals no matter their skin type to solve a problem, gain self-confidence, and find your own beauty. That's why the brand name is COSRX: COSmetics + RX = COSRX. 'Expecting Tomorrow' is the Cosrx motto…high performance products will make you excited to see the positive change tomorrow. Riley Rose stocks over 24 Cosrx products. Check out the teaser video for some of the best selling Cosrx products that you'll be able to buy at Riley Rose:
USA Cosmetics, is so excited that Cosrx is becoming more available across the United States! Cosrx is a brand that we believe in and we're so happy that Riley Rose reached out to us to bring it in-stores.
Congrats to Riley Rose on your second grand opening…we can't wait to share Cosrx with Riley Rose customers in even more upcoming store openings!
Stay tuned…

About USA Cosmetics, Inc.
USA Cosmetics, Inc. is North America's largest K-beauty product distributor headquartered in Frisco, Texas. Utilizing our expertise from over 20 years in the K-beauty space, we deliver the best-selling, authentic K-beauty products from South Korea to the US market. With our commitment to 5 Star Service, we facilitate a hassle free ordering system to ease communications between the manufacturer and end-user. With warehouses located in both Texas and California, USA Cosmetics, Inc. offers distribution of the largest selection of Korean cosmetics for the American market.